The Eureka Woman's Club is a non-profit organization that is a member of international, national and California Federations of Women's Clubs. Programs and projects are generated on all levels. As part of California's Area A, our Redwood district meets four times a year and consists of six clubs: EWC, Crescent City Women's Club, Garberville Civic Club, McKinleyville Federated Women's Club, Trinidad Civic Club and Wha-Nika Club of Blue Lake. EWC members are welcome and encouraged to attend these gatherings.
Our 1916 Craftsman style building is
available to rent
as your event venue. Our Great Hall is 1824 square feet and can hold 140 people. It's perfect for weddings, anniversaries, and music performances. Our Fireside Room is 704 square feet and can hold 40 people. Business meetings or small parties fit comfortably in this more intimate space. See our
Rental Info page
for more info.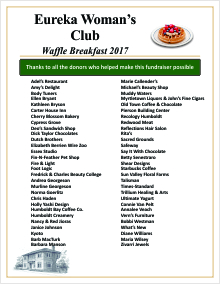 Our
2017 Annual Waffle Breakfast Fundraiser
on Jan 15 was a great success. We served more breakfasts and raised more money than we ever have, and would like to thank all the donors who made this possible – we couldn't have done it without you!
This year our fundraiser recipients are
Humboldt Literacy Project
Humboldt Domesstic Violence Services
Senior Resource Center Home Delivered Meals,
and our EWC Milk Fund, which benefits children's lunches at St. Vincent dePaul and the Eureka Rescue Mission.
The AfterWork Network department meets the needs of women and men who want to socialize and network in the evenings. Get more info here.
EWC Great Hall