The
Eureka Woman's Club
is a non-profit organization that is a member of international, national and California Federations of Women's Clubs. Programs and projects are generated on all levels. As part of California's Area A, our Redwood district meets four times a year and consists of six clubs: EWC, Crescent City Women's Club, Garberville Civic Club, McKinleyville Federated Women's Club, Trinidad Civic Club and Wha-Nika Club of Blue Lake. EWC members are welcome and encouraged to attend these gatherings.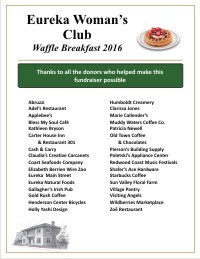 Our annual Waffle Breakfast fundraiser was held Sunday, Jan 17, 2016. Proceeds benefit the Humboldt Literacy Project, St. Vincent Food Services, EWC Milk Fund, and Meals on Wheels.

Thanks to everyone who made our Waffle Breakfast a success! (Click on image to see the list.)
The AfterWork Network department meets the needs of women and men who want to socialize and network in the evenings. Get more info here.
EWC Great Hall