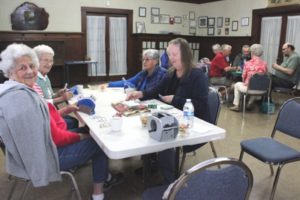 The Cards Department of the Eureka Woman's Club meets every Wednesday to play Bridge and Shanghai.
The Schedule:
September through May:
1st & 3rd Wednesday, after regular club meetings.
2nd, 4th, & 5th Wednesdays:  Bring your lunch 12 noon; games start at 12:30.
June through August:
All Wednesdays: Bring your lunch 11:30; games start at 12:30.
Non-club members may attend all summer events (June thru August).
Our annual Card Party Fundraiser will be in April, 2018, at 12 noon. Snacks, desserts, and prizes will be provided. We'll raise funds for a local charity. To RSVP or for more information, call 273-2968 or 441-8499.
Check back for more details.